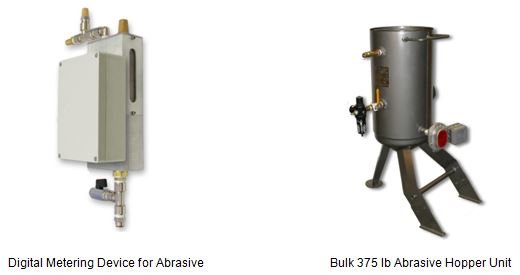 UNDERSTANDING & SELECTING A WATERJET

Perfect Score Technologies manufactures both an Abrasive Jet and Pure Water Jet Cutting Machines. The Waterjet system are an ideal machine for the cutting of various materials and extremely versatile compared to other cutting machinery such as lasers and plasmas limited to ferrous and non-ferrous metals . For glass and stone fabricators a Waterjet at times maybe the only solution.

Waterjet System Components

1. High Pressure Pump - outputs 45,000 to 60,000 psi at roughly 1.0 GPM (30 hp up to 200 hp)
2. Motion Table / Workbed - X,Y motion controlled, offered in cut envelopes from 4' x 4' to 8' x 12'
3. Abrasive Delivery System - bulk hopper connected to the metering feeder at the cut head.
4. Operating Software - the software used by the operator on the waterjet table to execute cut files.
5. Post Processing Software - takes your drawing files and formats them to GCode cut ready files.
Waterjet System Components
Type of Cutting
Hardness
Material Types
Operational Costs
(with 30 HP Pump)

Pure Water

Soft

Foam, Rubber, Gaskets, Carpet, Foods, Insulations

$ 5.50 per hour

Abrasive

Hard

Glass, Granite, Steel, Aluminum, Stainless, Copper, Plastics

$ 18.00 per hour
DIFFERENCE BETWEEN PURE WATER AND ABRASIVE WATERJETS

Abrasive Configured Table (30" tank depth ) Pure Water Configured (trough , no tank)
Pure water cutting is performed with no Abrasive (Garnet) mixed into the cut stream. Most any waterjet can be configured within minutes for either pure water cutting or abrasive cutting by simply re-configuring the cut head.

Abrasive cutting requires an Abrasive delivery system equipment. The cut head stream of water is injected with Garnet (Abrasive) material. Garnet is a mined crushed stone filtered to specific particle or mesh sizing. An 80 grit abrasive is aggressive for hard materials such as steel, the finer 120 grit is suggested for glass cutting and can produce a smooth temper ready edge finish.
Waterjet Tables (motion table) are commonly designed to hold 30 inches of water below the workbed. This pool of water is required for abrasive cutting to dissipate the energy, thereby not cutting a hole in the bottom of the tank overtime. Most workbeds support the subject material by rows of slat or grates. The waterjet table can be designed for cutting materials above the pool of water (most common) or subsurface (submerged cutting) to reduce operational noise levels. It is suggested that users cutting various materials should purchase the abrasive configured table that can also cut pure water materials as needed.
WHY PURE WATER ONLY TABLES
The advantage of a waterjet motion table designed for pure water only cutting is performance and economics. The pure water tables have a curved catch basin eliminating the tank or pool of water. The trough design makes cleaning or removal of debris materials easier plus eliminates water backspash associated with a pool of water.

It is less expensive to fabricate a waterjet having a curved basin as compared to the full 30 inch abrasive style tank. The Pure Water machines do not require the abrasive delivery system or the more costly abrasive configured cutting head. These changes provide a lower cost table as compared to the Abrasive cutting tables.
Abrasive Table with Slat Work bed (Optional Stainless Steel Construction)
Pure Water Table Catch Trough Basin
The 5' x 10' Abrasive Tables span the gantry across the 10 ft opening. The front of the machine is 10 ft wide providing ease of loading for heavy materials such as steel plate, glass sheets with vacuum loading systems. The pure water tables are designed having the gantry spanning across the 5 ft opening. This shorter length considerably reduces the gantry weight thereby enhancing acceleration performance. Many pure water tables are designed with multiple cut heads with the specific task of high speed cutting to achieve maximum production output.
SELECTING THE MOTION SYSTEM
Common Types of Motion Systems used in the Waterjet Industry.
Motion Types

Belt Drive

Ball Screw
Linear Drive
Rack / Pinion

PST EconoJet

Not Used by PST

PST Premium Abrasive
PST Pure Water

Not Used by PST

Speeds

Medium

Slow

Very fast

Slow

Accuracy

Good

Good

Best

Satisfactory

No Backlash

Medium

Medium

Excellent

Poor with Wear

Maintenance

Low

Medium

Lowest

High

Lubrication

None

Yes

None

Yes

Bellows Required

Yes

Yes

Not Required

Yes

Encoder Type

Rotary

Rotary

Linear Magnetic

Rotary

Waterproof

No

No

Yes

No

Cost Factor

Moderate

Moderate

Most expensive

Moderate
In selecting a motion system for water jet applications one should consider the harsh operating environment and damaging wear effects moisture and abrasive overspray can cause. It is common to see rack / pinion and ball screw systems used for laser and plasma cutting equipment. Many of these machinery companies apply the same motion technology when they merely added waterjets to their offering. Besides having slow positioning capability, these types of transmission designs require lubricant and bellow protection. After a short period of time bellows will develop cracks and holes, the abrasive spray then penetrates the lubricated components. The abrasive is then mixed into the lubrication causing excessive component wear, reducing accuracy and increasing maintenance expense. For this harsh environment "non-lubricated" transmission systems are recommended.
PST BELT DRIVE SYSTEM - EconoJet
The EconoJet is a belt driven unit in both the X and Y directional movements. The belting material is polyurethane material with steel cords for increased tension capability. The belting design selected "Arc Shaped Technology" provides increased accuracy plus is self tracking. The self tracking feature operates with Aluminum flangeless pulleys, this eliminates debris from being trapped within the pulley mechanism. The unique belt and pulley design insures continuous tooth engagement; this feature enhances motion repeatability and improves backlash accuracy.
Positioning accuracy is performed by feedback readings by the encoders. The belt drive system is coupled with Rotary Encoders hard mounted at the servo motors drive shaft. The accuracy at the pulley location is read at the pulley to be within 0.001. This type of encoder cannot account for positioning error due to backlash or play in the belt since it does actually read positioning at the cut head location. The EconoJet is ideal for most users cutting applications having the ability to hold position within a 0.003 and cutting accuracy of 0.007-0.014.. Should tighter no backlash specifications be required, the optional linear drive package coupled with linear encoders is suggested.
PST LINEAR DRIVE MOTION – Premium Jet

PST offers state of the art Linear Driven motion technology. This system consists of water sealed linear induction motors magnetically coupled by rail mounted rare earth magnet sets. This drive motor package transmits power having no moving mechanical parts thereby eliminating wear maintenance. Once the motor carriage is positioned it magnetically holds in position, therefore provides a true zero backlash capability.
•
Highest Positioning Speeds > 3500 ipm
•
No wear components - same level of accuracy every year!
•
No Backlash, repeatable to +/- 0.0005
•
No lubrication ideal for dirty abrasive environment.
•
Fully in-capsulated waterproof motor windings.
Magnetic Linear Encoders are coupled with the Linear Drive Package. The encoder package is accurate to 2 microns providing best in industry positioning capability. Magnetic encoders are considerably more reliable in a dirty harsh environment as compared to linear optical style encoders that become unreliable once the optic eye is blocked by debris or moisture. Our magnetic linear encoder consist of a read head directly mounted at the cut head location with a magnetic tape installed the length of the rail. The head reads the magnetic tape signal for continuous positioning feedback at the cut head location.

The linear drive package offers many superior features as compared to other transmission systems. The upfront purchase capital expense is higher therefore is commonly purchased by users requiring significant speed performance such as pure water cutting applications or advanced close tolerance cutting.


Online purchasing coming soon
Click Shop above to browse our NEW e-commerce site